Reliable Processing Technologies
We are capable of taking part in planning from the development and design stage,
including entrusted production based on the designs of our customers.
Moreover, we also develop elemental technologies as required,
and are equipped with a complete system that is capable
of total implementation – from the manufacture
of prototypes to evaluations.
We are also able to carry out integration –
from development to production –
so we can improve quality and deliver great results
with our value engineering activities.
While we have repeatedly evolved since our establishment,
we have continued to be the best partner for our customers,
counted on by those from a variety of industries.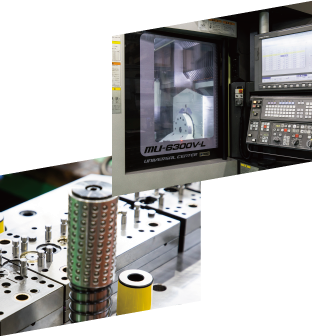 *Scroll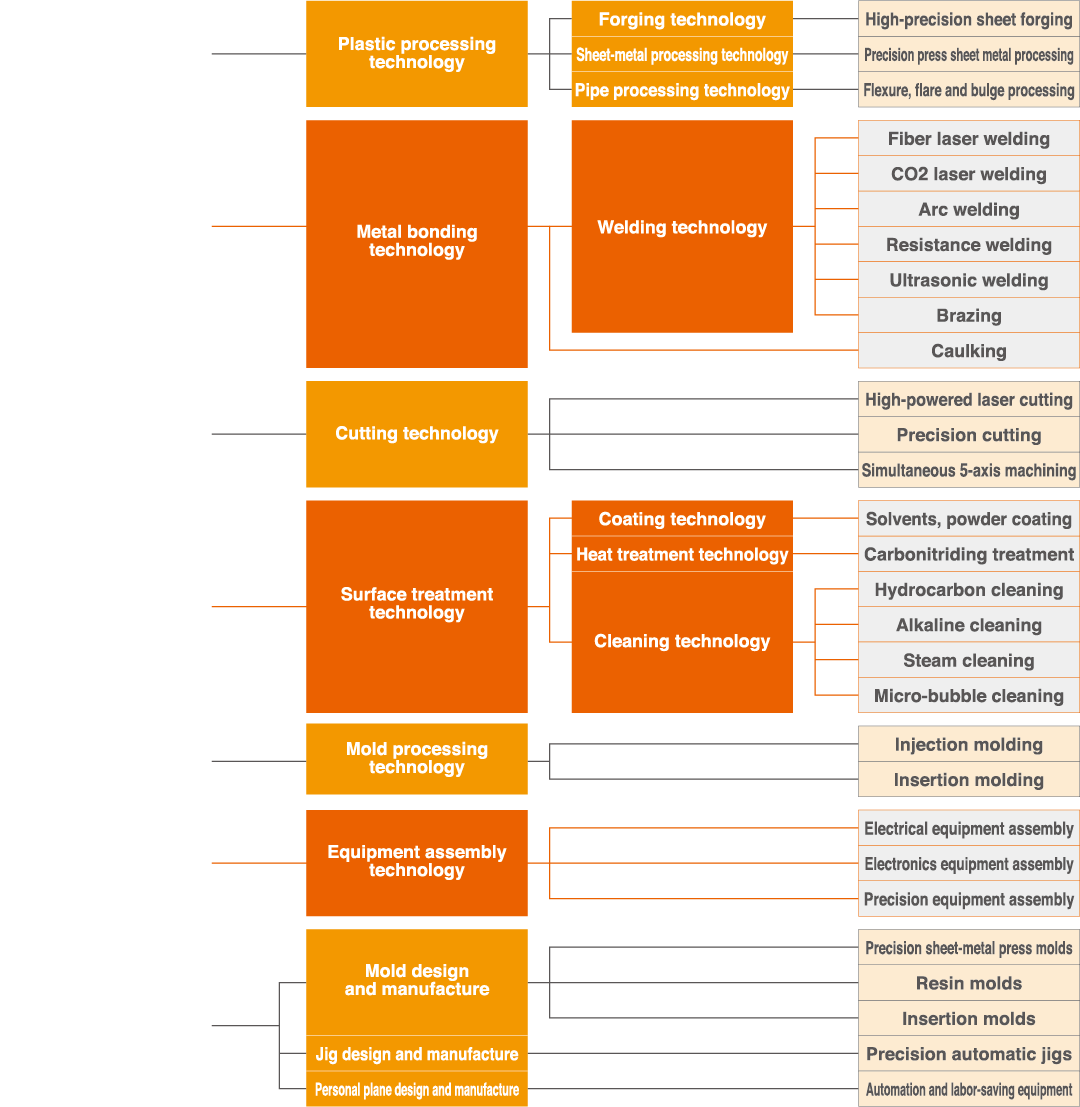 Fully-Equipped Facilities
FUKUSHIN is able to handle a variety of types of processing,
starting with plastic processing which has been our specialty since our establishment.
Promptly incorporating automation with the introduction of the latest equipment,
we achieve an effective blend of quality and reduced delivery times.

We support a wide range of plastic processing, such as non-cutting processing with high-precision thick plate deep drawing and high-precision plate forging by a servo press machine, large deep drawing by transfer press and hydraulic press, and precision sheet metals by a Gatling press center.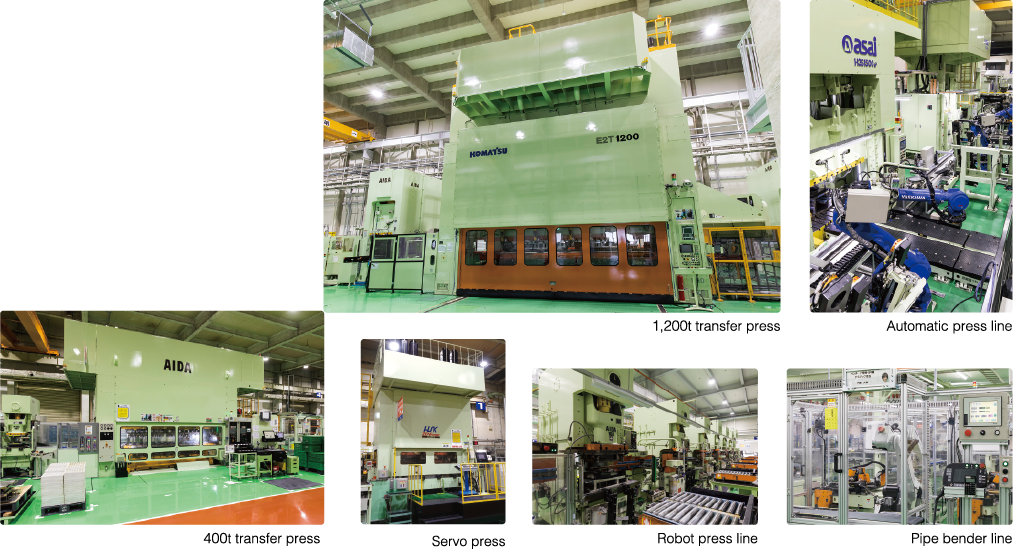 1,200t transfer press

Automatic press line

400t transfer press

Servo press

Pipe bender line

In addition to performing fiber laser welding and arc welding with state-of-the-art robots, we carry out welding in accordance with the target object by using techniques such as resistance welding, ultrasonic welding, and brazing. In addition, we perform caulking with an automatic caulking machine.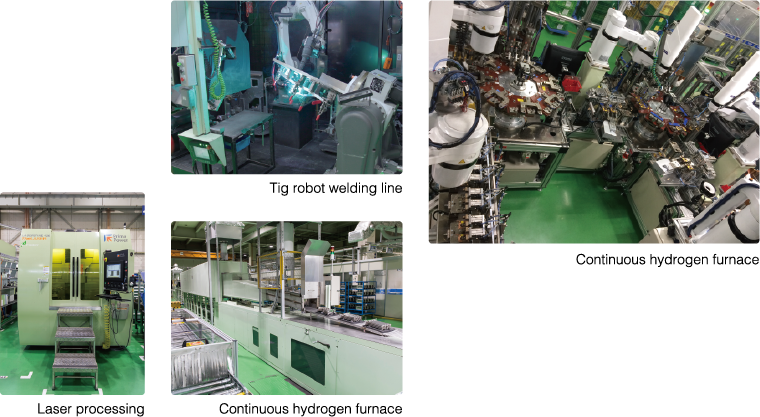 Tig robot welding line

Continuous hydrogen furnace

Laser processing

Continuous hydrogen furnace

Starting with automated lathe processing, we carry out polishing and lapping in facilities that are temperature controlled by a thermostatic chamber to perform micro mirror finishing.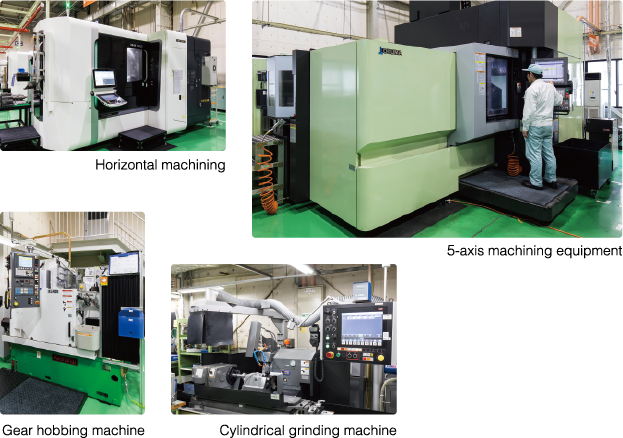 Horizontal machining

5-axis machining equipment

Gear hobbing machine

Cylindrical grinding machine

Surface treatment technology
We make full use of coating technologies (e.g., solvent coating and powder coating) and heat treatment technologies (e.g., carbonitriding treatment). We clean the surface of products by employing hydrocarbon cleaning and micro-bubble cleaning, among other techniques.

Hydrocarbon washer

Solvents, powder coating machine

(Undergoing powder coating)

We contribute to the further cost reductions and high quality for our users with a wide range of technologies – from the design and manufacture of resin molds to molding and secondary processing.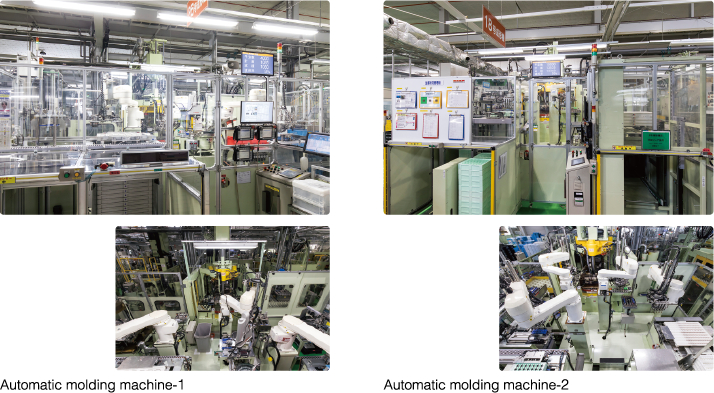 Automatic molding machine-1

Automatic molding machine-2

Our employees, who are fully proficient in this technology, are able to support all needs.
We have an integrated support system in place – from product planning and development
to prototyping and verification – in order to realize high quality and low costs.
Powered dumbwaiter assembly line

Fuel pump assembly line

Fan motor assembly line

We conduct accurate and high-speed processing with NC machining through a mold designing and manufacturing system which makes full use of 3D-CAD/CAM/CAE.
We achieve reduced delivery times, cost reductions, and increased precision.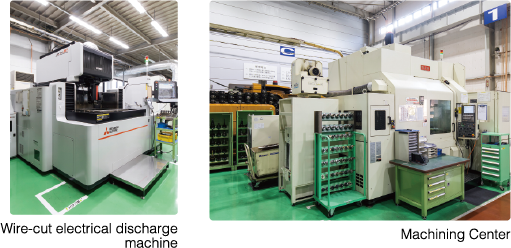 Wire-cut electrical discharge machine

Machining Center