DEVELOPMENT
Contract Products
FUKUSHIN's strength lies in continuing to
respond to customer feedback
In order to respond to our customers who say, "if only it could be more like this,
" we analyze the current product and manufacturing processes, identify challenges, and then solve these challenges.
Since our establishment, FUKUSHIN has taken advantage of its strengths which involved continually examining our technology and experience,
and not only do we improve quality, we optimize production and reduce costs, or carry things out up to the development of new products.
High Technology

We have adopted an integrated approach to pressing since our establishment. Moreover, with this as a foundation, we have achieved high-precision and high-quality parts manufacturing based on our experience and expertise in metal plastic working and plastic molding. In addition, we have achieved reduced costs by integrating production lines, from pressing to cutting, welding, cleaning, and assembly inspection. We create the completed product using the optimum technology for each and every process.

Ability to Propose
Solutions

We possess every kind of processing technology, from pressing to welding and inspection, and we can propose solutions to the things customers desire with the best possible approach. Fully applying the experience acquired to date and wide-ranging processing technology to addressing matters that trouble them, including quality, costs, and delivery, we propose solutions that will convince and satisfy them.

High Quality

We possess a large number of the latest equipment, such as 3D measuring equipment and image measuring equipment, and our certified inspectors inspect and evaluate to a high degree of precision all forms of products as well as conduct shipping inspections. In particular, we have acquired the international standards IATF16949 certification (Fukusaki Factory).
Moreover, we have also acquired JISQ9100 certification for the aerospace industry and quality management standards as well as Nadcap certification for special processes (welding and laser processing). We strictly adhere to creating products based on quality management systems.

Impressive
Response

We respond to the demands of customers by creating products which are the best they could possibly be at that point in time, with the fundamental spirit of "We are going to take it as far as necessary." All of our employees propose solutions and manufacture products from the perspective of the customer. We strive to ensure that every action we take and the products we produce instill emotion and excitement in our customers.
Contract Products
Our products are engaged in not only the automotive industry,
but also in a wide range of other fields, including the housing, medical, and industrial equipment industries.
In particular, we have acquired the IATF16949 certification,
an international quality management standard for the automotive industry
for the automotive-related parts produced at our Fukusaki Factory.
ISO9001
EQA U095034

ISO14001
EQA U7684

IATF16949
JQA JQA-AU0354
Automobile-related Field
Since the time of our establishment, the automobile-related field has occupied a position of major importance in our product lineup. Our products, represented by automotive electrical parts, motorcycle-related parts, and frames, have won high praise for their strength and corrosion resistance, which enables our goods to withstand harsh environmental usage conditions, as well as their high-precision and long life spans.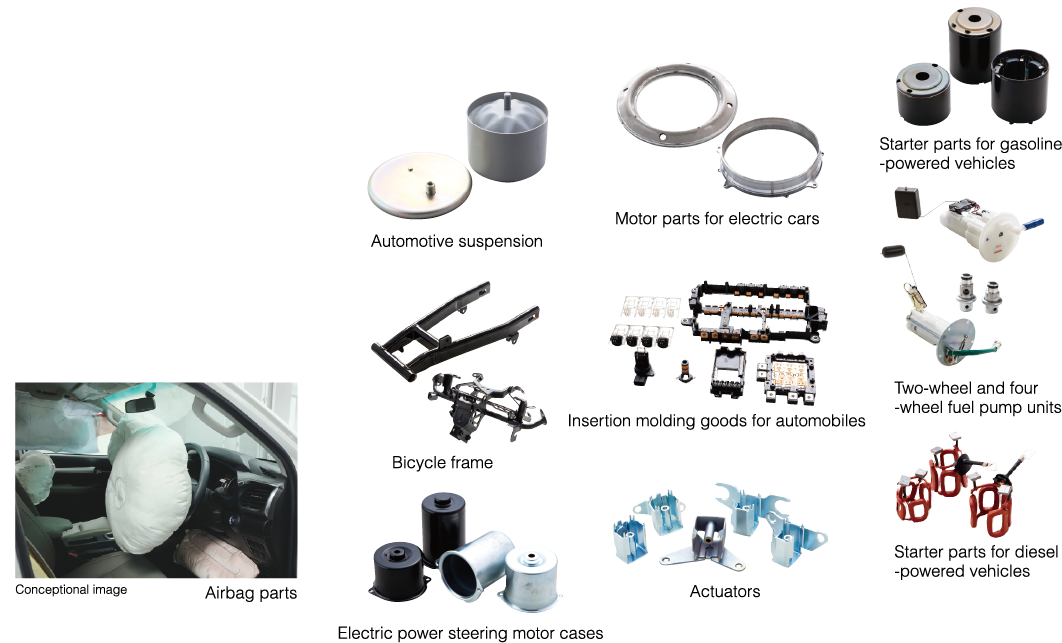 Housing Equipment
-related Field
We are developing strong sales through stable cost performance and quality assurance technologies in the hot-water heater consumer electronics field (e.g., hot-water heaters and gas fan heaters).
Furthermore, we have been taking on the challenge of expanding our business in high-efficiency products that meet environmental needs in recent years.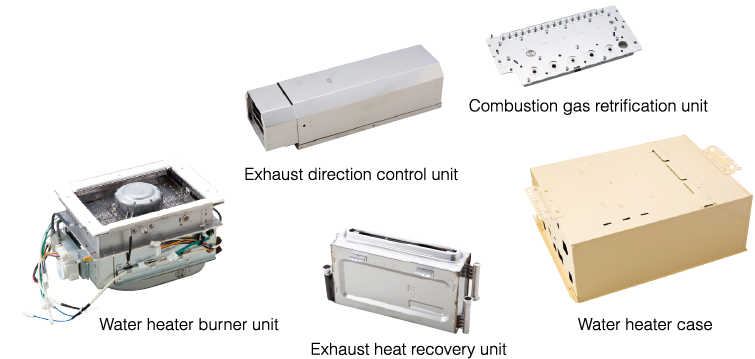 Industrial Equipment
-related Field
We provide precision pumps that accurately meet the needs of the times, such as high-pressure, low-noise, and space-saving demands. We carry out the high-precision processing and assembly of hydraulic pumps that combine high performance, reliability, and maintainability.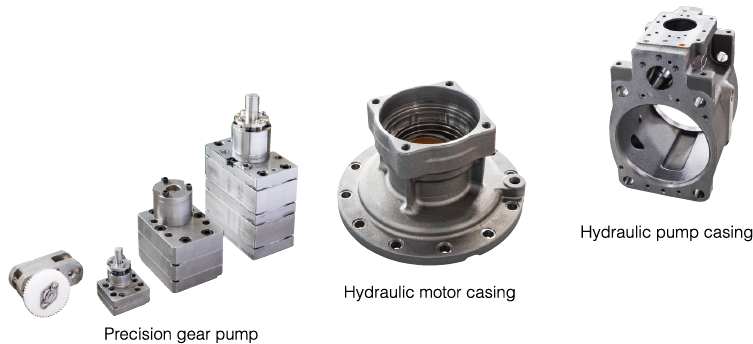 Aviation Equipment
-related Field
We have acquired the JISQ9100 certification for the aerospace industry and quality management systems and the Nadcap certification for international specific processes for aviation equipment parts manufacturing. We manufacture engineering parts (welding and laser processing) which are considered the heart of aviation equipment.